An interesting thing happened to me on the way to work today. Panic set in when I started to think about the weight loss goals I have. I began to wonder 'Can I really do this'? 'Am I really willing to pay the price and forever eat and live in a new way?'
The reality settled in that this is 'forever' – that I'm never going back to what I was before. So that means I need to forever remain changed. And the reality hit that all my favorite behaviours, all my favourite foods, the sedentary lifestyle – all of the things I had identified as 'me' were being replaced, and I was being born into a whole new version of me!
Yikes!!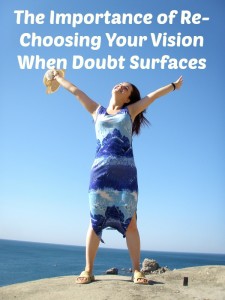 I could see the 'new me' looming out there. But the behaviour of the new me, her way of life, her energy, and the amount of physical activity is so different from the 'old me'. I want what she looks like – but the mind I must embody to BE her terrified me – just for a moment.
And then I grabbed hold of myself and recommitted to the fabulous NEW ME. I have never been her in this lifetime and I wonder what that will be like?
I try to imagine her life as my own. I start by seeing myself step on the scale and I see a new number come up reflecting 30 lbs of weight loss. I can feel that my body 'feels' less bulky and I 'feel' lighter. There is an energy to me that I haven't experienced in a lot of years – it makes me feel like I'm 30 again, which is a much desired transition. Furthermore, I'm naturally happier.
This NEW ME steps off the scale. I imagine being her and what her day is like. She wakes up in the morning full of energy. There is a sunny optimism to her step, her voice, the way she holds herself, and even the way she answers the phone. This energy is EVERYWHERE and every facet of her life is impacted by it – the people she meets, her family, and the circumstances of her everyday life.
Life is cooperating with her in a huge way. What she focuses upon manifests in her life quite effortlessly. Life has become so much easier, and that fuels her natural joyfulness. The cooperation I feel is a reflection of self-love and self-respect within me. The changes that I have made in my mind are now showing up in my physical reality – in my body as well as the people and circumstances of my life.
That's also when I realize that losing the weight was also about letting go of the old way of seeing life – the old attitudes of powerlessness, helplessness, and victimhood that I grew up with. And as I shed those old attitudes, the new way of operating in the world locks into place even more strongly and I realize that the big dreams I have held within me are all being realized here.
WOW – how cool is that!?
Our future resides within us. It is the guidance system that silently moves us towards our desires and dreams. In those quiet moments when you're in a meditative state or when you're in the Vortex (Esther & Jerry Hicks), you can experience it by doing something similar to what I did here. Really FEEL what it would be like if you changed your life. This can help you to hold onto your dream and let go of the fear. Furthermore, it can help you to move that future closer to you.
So what future would you like to explore? What vision do you hold for yourself that you would like to experience?