I've devoted my entire career to helping individuals, couples, families, teams, and organizations tap into their potential so that they can create and become the biggest, best, brightest version of themselves.
In other words, if some part of your life…
Personal goals and experiences
Relationships
Work
Business
Finances
…isn't working for you or feels stuck at a level that's lower than desired, my passion is helping you transform it into the life of your dreams.
With a B.A. in Psychology and a B.Ed. in Business Education and Special Education, my career began as a secondary school teacher. After twelve years, my journey led me to coaching, a license from the College of Core Belief Engineering, and ultimately to opening my own business.
I have training and experience in:
| | |
| --- | --- |
| Career planning and development | Mastering Tough Communication |
| Client Service Excellence | Mediation/Negotiation |
| Coaching | Neurolinguistic Programming (NLP) |
| Conflict Resolution | Personality Dimensions – Level II Trainer |
| Development Planning | Presentation Skills |
| Effective Communication | Separation and divorce |
| Effective Presentations Training | Stress Management |
| Entrepreneurial endeavors | Teambuilding |
| Facilitation Training | Time Management |
| Leadership/Management courses | Visionary Leadership |
That's over 30 years of training and experience I can put to use to help YOU create a life you love.
In a world where it's easy to feel overwhelmed, uncertain of your purpose, and sometimes even powerless to create the future you want, I help people become their own heroes.
Want to hire me for one-on-one work, workshops, speaking engagements, or something else? Click HERE for a complete list of services.
I started seeing Heather a little over 3 years ago and she has done what no other could do with me in 46 yrs. I am an extremely successful business woman, interior designer and mother of two; however I always felt that there was something really blocking me from reaching my true potential. I was at a loss as to how to get past it, over it, or through it – but I was determined to find a way – one way or another!

In working with Heather, my road blocks became very visible – even within the first session. You can't fix or change what you don't know. The first step is awareness. Second step – replacing old, outdated, non-valid thought patterns with accurate, empowering ones. Mindful Change sessions helped me to do all that.

Today I feel more in control of my life, more at peace with me. I feel more confident that I can build a life I desire. I am calmer in relationships with others – able to understand them better – I'm more compassionate and open to them than ever before. This allows me to begin to build a relationship to a partner that I desire to experience. I have also achieved career success that tops what I had already achieved, and I possess a calmer attitude towards my life.
— P.S., Television Personality, Business Owner, Mother to 2 fabulous children! (my most important job!)
If You're Intrigued and Would Like More Information, You Can…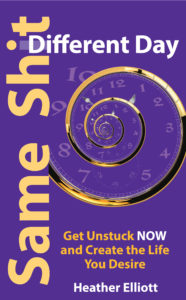 Get two free chapters from my book, Same Shit Different Day, that'll help move you toward a life that makes you happy
Get free chapters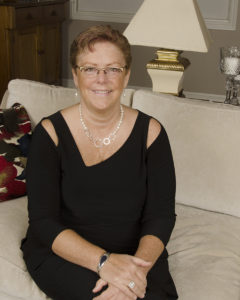 Sign up for a 30-minute consultation where we see if we're a good fit to work together, find, and melt away your limitations
Schedule a Mindset Assessment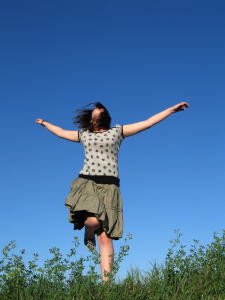 Take the 10 Day Challenge and uncover your biggest mindset blocks
I'm ready!